What is it?
Edit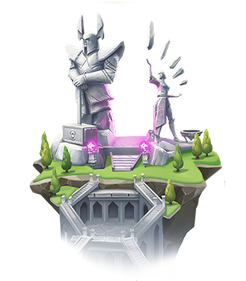 Journey is like a story mode in Mighty Party.
In Journey mode you fight against predefined squads and when you beat a boss, the next one will be unlocked. At the moment, there are 21 chapters with 5 bosses each with a total of 105 enemies to defeat. Obviously, the difficult of every boss is increasing.
You can acces Journey directly in the main screen of your Kingdom.
How does it work?
Edit
One you have defeated a boss, you wont be able to fight against him again until gameday reset (unless you pay several
Gems to refresh him), and you unlock the next one if the defeated boss is the last boss you have discovered for the moment.
As said, every day all the bosses you have defeated appear again, so you can fight them daily to get the rewards they give.
When you defeat 5 times a certain boss, it will "level-up", becoming stronger and giving better rewards.
Journey Keys
Edit
You need

Journey Keys to fight here. There are several important facts to take into account about

Journey Keys:
Bosses list
Edit
The current bosses in Journey mode are listed below:
When you defeat any boss, you will get two different rewards:

Journey Keys is a very valuable resource in Mighty Party, so here you have several tips to manage them:
Community content is available under
CC-BY-SA
unless otherwise noted.