⚠
The information in this article or section was last reviewed on

October 10,2021

.
Information on this page has been verified to be accurate as of the above date.
Mighty Party, having created its own resources that can be earned and spent within the game, also has Premium Content that can be obtained by real-world currency. These contents appear in several ways, and when or what they offer, including the amount of the content and the price, may change according to your league and regularity of your purchase.
You will find various kinds of offers below, which will help you to accelerate your progress within the game.
Shop
Shop is one of the buildings in your Kingdom where different kind of offers for summons, Gem, Gold, VIP Points, and VIP Time can be found. In addition, the offers for Event Rune also appears during the Global Events here.
It is also advised to check the announcements in Fables section daily, which you may get better deals that double the amount of resources such as gems or gold with the same amount of payment, for example, or that offers special summons options.
For more information about Shop, click here.
Deals
This is the section where most of the paid contents are. When the Deals icon is clicked, you will find various kind of offers coming as Starter Packs, Unique Offers, Pets Shop, Monthly, Weekly, Daily and occasionally Combat Packs, and Event Packs. Except Pet Shop, all offers stand for limited time with the prices changing every each time depending on amounts of cards, its Rarity and the combination of other resources such as Gem, Gold, Soul Dust, and VIP Points. Therefore, it is better to watch out for new deals.
Daily, Weekly, and Monthly offers are renewed daily, weekly, and monthly as it is understood by their names. It should be noted that Daily deals offer one free chest every day. So, do not forget to claim it.
Starter Packs are the deals for the new players, which aims to give them some advantage against their opponents at the beginning of the game.
Unique Offers are the deals which are unique and come at different prices for every player.
Rune Shop is another occasional deal which appears during the Global Events. The deals within the shop includes Event Rune, VIP Points, Gem, and guild chest in different amounts. The prices differs as the amounts increase.
Pet Shop
VIP is a status that provides you various of privileges in the game. These privileges differ based on your VIP level and as your level increases, either the privilege you have gets improved or the new one unlocks or both. Currently, the maximum VIP level is 20 and VIP points are the key to reach the next level. The VIP points can be collected by doing purchase either Gem from Shop or offers in Deals.
Buying VIP Time for activation, which becomes available after the first VIP activation.
For more information about VIP, click here.
Chest Slot

You will see that you will be already given 4 chest slots and 4 extra chest slots as an offer when the Hall of Fame building is clicked on your map. As you should be familiar with so far, the empty slots are where you store the chests you win at Hall of Fame, and the Hall of Fame is the best fight mode to earn any kind of chests and the only way to league up. However, once all slots are occupied, you have to either wait until the countdown is over or speed up the timer by spending Gem if you want to store more chests. If you do not do one of these, then that means you have to either claim your chests by spending Gem right after the win or skip it, and it is for sure that you do not want to miss any resource on the way up or slow down your progress.
On that point, Mighty Party offers you 4 extra chest slots for 4.99$, 9.99$, 19.99$, and 49.99$, respectively with extra rewards such as hero souls in different rarity, VIP Points, Soul Dust, Gold, and guild chest. This offer can be accessed clicking either offer chest from Hall of Fame or Treasury from Deals. The more slots you have, the more resources you will get, and as a result, the faster you will advance in the game. It should be noted that the chests earned in Hall of Fame are also great way to get Event Rune during the Global Events.
Mighty Pass
Mighty Pass is a path where you can earn resources by collecting points, and these points can be earned by completing Daily Quests and Weekly Quests. The Mighty Pass starts at League 27 and lasts for 21 days. The new Mighty Pass starts as soon as the current one expires, however if it is completed before its expiration time, then you still need to wait until its original time, 21 days, ends for the new one to start. The total points you need to collect to complete the Mighty Pass is 15000.
Mighty Pass has two access for you, which are Free Access and Premium Access. You can claim the resources of Free Access any time you want when the required points are collected, while the Premium Access requires a payment to claim its resources. You can pay and claim the premium resources any time you want before the Mighty Pass ends.
Additionally, you will receive a medal if you complete the Mighty Pass, which is The Sole Survivor for Free Access and Real Hero for Premium Access.
How can I collect points?
You can collect the Mighty Pass points by completing Daily Quests and Weekly Quests. The points from Daily Quests are 50, 50, 100, 100, 200 respectively while the points from Weekly Quests are 250, 250, 250, 250, 500 respectively. For more information about quests, please click here.
Besides the quests, the points can be bought in return for Gem if you are lacking them.
Trophies
Trophies is a path where you can earn resources by completing levels in the Journey. As in the Mighty pass, you will be given limited time to complete and to claim the rewards. It is important to complete as many Trophies as possible on time, otherwise the trophies that you did not manage to open on time will not be available (including Premium trophies). At the end of every sector, the current path of Trophies will end, and the new one will start at the beginning of the new sector. As the sectors get harder and harder, the given time to complete the Trophies will increase, and besides, the number of trophies also increases with each subsequent sector.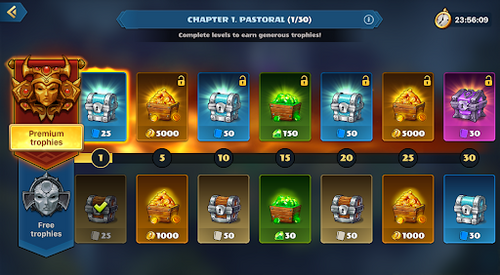 Journey Trophies
As in Mighty Party, Trophies also offers Premium Trophies and Free Trophies. You can claim the resources of Free Trophies any time you want before starting a new sector when the required levels are reached, while the Premium Trophies requires a payment to claim its resources. It should be noted that Premium Trophies should be activated and claimed before starting the new sector. Because, as you start the new sector, the path of Trophies will be renewed, and you will not be able to receive Trophies from the previous one.
Gem Fund
Gem Fund is the one time offer that appears when you first enter the adventure of Journey and it lasts 14 days. Once the purchase is done, the offer will stay with you forever, otherwise you will not get a chance to receive this offer again. The Gem fund currently costs 19,99$.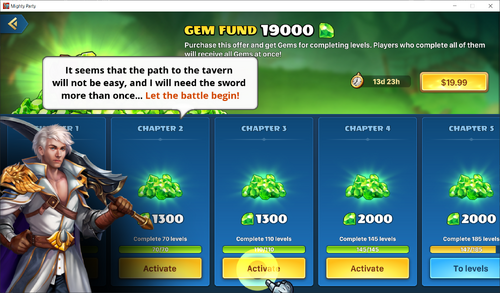 Gem Fund
Gem Fund rewards you with Gem for completing each level and once you complete the sector, you can claim the Gem at once. Considering that Journey currently has 9 sectors, the amount of gems for each sector is 1300, 1300, 1300, 2000, 2000, 2000, 2600, 2600, and 2600, respectively, which makes 19000 in total.